Including 5 nights Hotel and B&B Accommodation based on two sharing
Single supplement:
€290 (approx. $315)
(Departing: Sunday)
B: Breakfast; L: Lunch; D: Dinner
A journey of discovery in a super-comfy, slick Mercedes mini-coach

The services of a highly-trained and professional driver guide

6 full days on tour

5 nights' accommodation

5 delicious and filling hot Irish breakfasts

Most daily activities and visits (see Tour Options for extras)

Live like lords and ladies with a one night stay in a castle

Entrance into the world famous Giant's Causeway

Entrance into Donegal Castle

Entrance into Dunluce Castle

Entrance into Hillsborough Castle

A guided walking tour of Derry/Londonderry
Boat Trip at Slieve League Cliffs** – €25.00 (approx. $27) 

Atlantic Sheepdog Demos Sligo** – €10.00 (approx. $11)

Bushmills Whiskey Tasting – £10.00 (approx. $11)

Black Cab Tour** – £20.00 (approx. $25)

Titanic Experience – £24.95 (approx $32)
We try and keep any additional costs to a minimum and these account for only a small part of the daily activities on tour. Most of the places we visit are free to enter. The additional activities we do offer have proved to be a big success with customers over the years.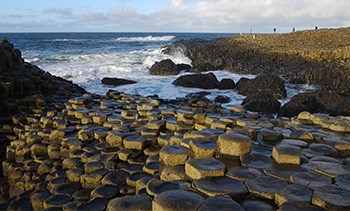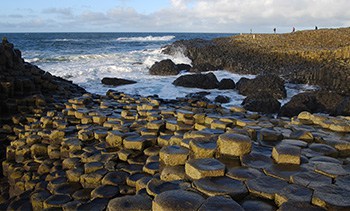 You will journey north to explore thousands of years of fascinating history, breathtaking scenery and legendary places that will take you into the heart of one of Europe's most secluded regions.
Northern and North-western Ireland has so much to offer as one of the most varied, captivating and beautiful regions in Western Europe.
From the rugged wilderness of Donegal to the iconic Giants Causeway, the outstanding natural beauty of the Glens and beaches of Antrim and the rich history of Belfast and Derry cities, you will visit places that other tourists simply wouldn't reach.
This Northern Ireland tour is a wonderful mix of magnificent scenery, fresh Irish country air, fascinating local culture and history and not forgetting, lots of laughs. Our small group sizes allow for a lot of flexibility, so every trip is different and molded to suit you and your fellow passengers.
Our small groups also mean that we can stay in smaller out-of-the-way hotels, which provide a warm friendly welcome and first class accommodation. All rooms have private bathrooms and most rooms have TVs and tea and coffee making facilities.
Highlights of the 6 Day Northern Island tour
Marvel at some of Europe's most magnificent scenery.
Experience the historic cities

and spectacular natural scenery of Northern Ireland and the rugged northwest region. Visit the geological wonder that is the Giant's Causeway, Northern Ireland's World Heritage site. Board a boat trip to

Slieve League

, the highest accessible sea cliffs in Europe.

Traverse mountain passes

and pristine

beaches in Donegal

, one of Ireland's most beautiful but undiscovered counties.
Take a history tour

with a local guide to see street murals and learn about the 'Troubles' in Belfast, the capital of Northern Ireland. Relive epic battles on a historic walking tour of Ireland's only fully intact walled city; Derry/Londonderry. Overnight in high quality

Take a guided tour

of the castle where the British Royal Family stay in Northern Ireland. Meet master craftspeople and skilled artisans in working craft studios.

Encounter authentic culture and local experiences in off-the-beaten-track destinations.
Day 1 – DEPART DUBLIN
Meet at Grand Canal Hotel 08.10am or in Dublin City and set off for the north of Ireland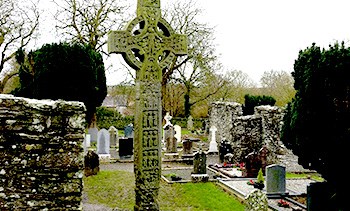 Meet your guide and fellow Driftwooders at the Grand Canal Hotel, Dublin, at 8.10am. Board your Mercedes tour vehicle for the trip of a lifetime!
We'll leave the city, going 1000s of years back in time…
Unearth secrets of the Iron Age trackway, or Togher, at Corlea. Constructed circa 150BC, this is the largest prehistoric roadway in Europe. Discover Ireland's rich rural heritage at the Museum of Country Life's modern exhibition space and Victorian landscaped gardens.
Overnight in Mount Falcon Estate in County Mayo 
(Driving time for the day: 4 hours 30 minutes )
Day 2 – BALLINA, MAYO to DONEGAL
Donegal Boat Trip & Sheepdog Demo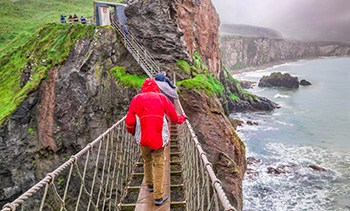 Arise and go now, your second day exploring Ireland awaits… 
Watch shepherd and dog working perfectly in tandem during a sheepdog demo (Tour Option). 

Alternatively, take a scenic drive to Mullaghamore Head, stopping by Creevykeel Court Tomb; this Stone Age monument is at least 4,500 years old. 
Choose to take a guided boat trip under 600m/2000ft high Slieve League sea cliffs (Tour Option). Sea legs are definitely required.
If you'd prefer dry land, choose from the following: 
Take a guided tour of 15th-century Donegal Castle (Fee Included). 

Drive to Slieve League to view these dramatic sea cliffs on land. 

Alternatively, stroll the shops and craft studios in Donegal town.
Overnight Stay Abbey Hotel in County Donegal 
(Driving time for the day: 3 hours)
Day 3 – DONEGAL to DERRY/LONDONDERRY
National Park & Walking History Tour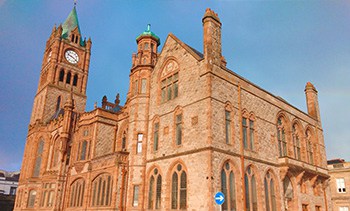 Watch for wild deer and golden eagles in the pristine wilderness of Glenveagh National Park. Take a guided history tour of Glenveagh Castle (Tour Option) or simply revel in this serene landscape. Buses run from the car park to the castle (Tour Option) or you can enjoy this scenic lakeside journey on foot. Duration: approx 40 minutes. 
Panoramic 360° vistas await you at the beautifully preserved Celtic stone ringfort at Grianán of Aileach. 
Cross the border into Northern Ireland (remember, UK £ sterling  required). 
We'll pass through historic city gates to enter Derry/Londonderry. Take a guided historical walking tour along the walls of Ireland's only intact walled city (Fee Included).
Overnight Stay in Shipquay Hotel in County Derry/ Londonderry
(Driving time for the Day: 3 hours)
Day 4 – DERRY/LONDONDERRY to BALLYGALLY, ANTRIM
Castle Hotel Stay & Giant's Causeway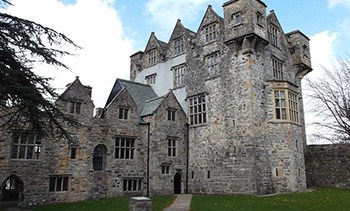 Cameras at the ready! You're about to experience one of the world's most spectacular coastal drives; the Causeway Coastal Route. 
40,000 hexagonal basalt columns make up the Giant's Causeway (Fee Included), a World Heritage Site.
Choose to walk in the footsteps of mythical giant Finn McCool on a steep 1km (1.6 mile) descent/ascent. Or simply follow an accessible path to the Giant's Causeway viewing point. 
Anyone for a wee dram? Visit Bushmills, the oldest licensed whiskey distillery in the world, for a tasting (Tour Option), followed by a stop at clifftop Dunluce Castle (Fee Included).
Overnight Stay in Ballygally Castle Hotel in County Antrim 
(Driving time for the Day: 3 hours)
Day 5 – BALLYGALLY, ANTRIM to STRANGFORD, DOWN
Belfast History Tour & Royal Castle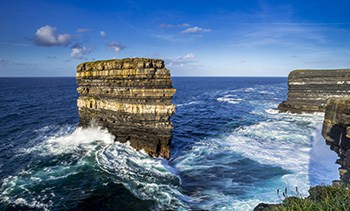 This morning we'll roll into Belfast, the vibrant capital of Northern
Ireland. Tour Options (Choose A, B or C):
A. Take a highly recommended Black Cab Tour, explaining the history of the Troubles era. 

B. Or a self-guided visit to the Titanic Centre. 

C. Alternatively, explore Belfast at your own pace. 
Are you the king of the castle? Visit Hillsborough Castle & Gardens this afternoon to find out. Take a guided castle tour (Fee Included) of the British Royal Family's official residence in Northern Ireland.
Overnight Stay in The Cuan Hotel in County Down 
(Driving time for the Day: 2 hours 30 minutes)
Day 6 – STRANGFORD, DOWN to GRAND CANAL HOTEL, DUBLIN
Mountains, Castles & Celtic Crosses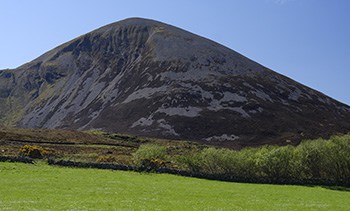 Before we wave goodbye — slán in Irish — there's still time to take in some of Ireland's highlights.
Step back in time to discover the historical burial place of Saint Patrick at Down Cathedral (Tour Option). Then imagine rival lords battling over 12th-century Dundrum Castle. 
Of course, you're taking the scenic route back to Dublin, passing the rolling granite peaks of the Mourne Mountains. Cross the border into the Republic of Ireland and the euro currency zone (€). 
Crane your neck to view the finest — and tallest — Celtic high crosses in Ireland, at Monasterboice. It's an epic way to conclude our northern odyssey.
You'll disembark your Drifter tour vehicle back at the Grand Canal Hotel in Dublin between 5-6pm. Farewell elbow bumps all around for your new friends.
(Average driving time for the Day: 3 hours 30 minutes)
Contact Info
Love Irish Tours

Unit 8 Scurlockstown Business Park Trim Co Meath