One of the world's great cultural centers, Dublin offers something for everyone. Your taste may run to historical sites, natural beauty, or tasting world famous potent beverages. While Dublin can enchant visitors for weeks or months, visitors can still experience all the worlds the city has to offer in only a weekend.
Day 1
Dublin Castle
As the administrative center of Ireland for 700 years, from the reign of King John to just after the end of World War I, Dublin Castle represents an excellent spot to commence a tour of the city. When touring Dublin Castle, come for the history but stay for the architecture. From medieval fortifications to Gothic, to Greek revival, Dublin Castle opens up like a history of administrative architecture in the British Isles.
Any visitor with any interest will surely find something to fascinate them at this unique world historical site. Located in the city centre, tickets can be purchased online at the Dublin Castle website or at the site.
Jameson Distillery
Scotland rightfully boasts about their Scotch.  Kentucky and Tennessee would fight a border war over comparing whiskey to Bourbon. All true lovers of fine whiskey know, however, that Jameson's taste and tradition of excellence win over all competitors. The best way to chase a great shot of Dublin Castle history is with a fun and fascinating tour of the Jameson Distillery.
Jameson's Bow Street Distillery in Dublin no longer produces whiskey, but it can help visitors produce memories that can last a lifetime. With almost 240 years of history in the building, Jameson Bow Street can tell the tale of whiskey like no other place. Visitors can also learn to whip up their own future classic concoctions from experienced bartenders.
Epic: The Irish Emigration Museum
For over 1500 years, an estimated 10 million Irish have left the shores of their homeland to venture forth and help to shape the world.
Epic: the Irish Emigration Museum tells the story of Ireland's contribution to the world in 20 interactive, children friendly galleries. Learn how Irish emigrants, both voluntary and involuntary, helped to shape the future of the British Isles, Australia, and North America. From emigrants looking to farm their way to a better life to railway workers pushing transportation across continents, to great world leaders like President Ronald Reagan, Ireland's children have endured oppression and challenges, but also have risen to the top.
Encounter all of their stories at this charming and fun educational experience. Located in the city docklands, the museum does charge admission but also offers special deals.
Picnic In the Iveagh Gardens
Visitors could eat lunch in any many cafes across Dublin City, or they could get some lunch to take away and enjoy the sumptuous surroundings of the Iveagh Gardens. Three centuries old with the most recent design by Ninian Niven still in place since 1865, everyone will enjoy the fountains and beautifully crafted greenery right in the heart of Dublin.
The Iveagh Gardens welcome visitors all year round, but opening time fluctuates seasonally. Check out their website  for more information.
Trinity College and the Book of Kells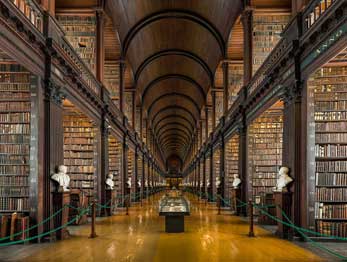 Trinity College, one of the world's great centers of higher education, warrants a visit in its own right. The beautiful vaulted ceilings of the Old Library and the iconic Campanile tower donated by the Archbishop of Armagh, Lord John Beresford alone will enchant and thrill visitors who love great traditional architecture.
Inside the Old Library, Trinity College displays one of the world's great masterpieces of art, the Book of Kells. Its origin remains shrouded in early Medieval mystery, but its precise and lavish visual representations of the Gospels of St. Matthew, St. Mark, St. Luke, and St. John are Ireland's most priceless artistic treasure and attract visitors from across the globe.
The exhibit is open seven days per week with ticket information available online.
A Night at the Theatre
To cap off the day, Dublin offers a wide variety of live theatre experiences, befitting its status as a truly world-class city. Three of the most famous options include:
The Abbey Theatre

was created by visionaries and has embraced them ever since. Founded in 1904 by William Butler Yeats and Lady Gregory, many consider it the national theatre of Ireland
The Gate Theatre has served as the home of experimental and foreign theatre since its founding in 1928. Some of the great performers of the 20th century, such as Orson Welles and James Mason, got their start at the Gate
The Bord Gais Energy Theatre provides a very modern contrast to other venues in Dublin. With its massive seating area and unique architecture, it brings a different style to Dublin performing arts
With a wide range of plays and concerts on throughout the year, check online at their websites to see what shows are on and to purchase tickets for a memorable evening.
Day 2
Guinness Storehouse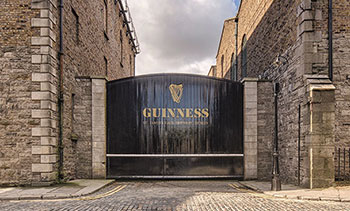 Yesterday the itinerary took visitors to one of the world's most famous and beloved distilleries. Today, visitors get to quench their thirst for the unmistakably Irish brew, Guinness. The Guinness Storehouse, located at St. James Gate, is the most popular tourist attraction in Ireland.
Seven floors of history and artistry take visitors through the evolution of Guinness, never forgetting tradition and taste as the times change. Tours end at the Gravity Bar located on the top floor, where one can learn the technique of pouring the perfect pint before sampling Ireland's most legendary brew and taking in breathtaking views of Dublin City.
The Guinness Storehouse is open seven days a week from 9:30AM until 7:30 PM.
National Botanic Gardens
The National Botanic Gardens in Dublin serve as a showcase for flora and other plant life from around Ireland and all over the world. Free to all, this "oasis of calm and beauty" offers regular attractions based on its collections. It also serves as a center of plantlife research welcoming scholars from around the world.
The National Botanic Gardens are situated three kilometres from the city centre, easily accessible by public transport, bicycle, or car. It is open all year except for December 24th through the 26th.
Kilmainham Gaol
Kilmainham Gaol represents the often troubled past of Ireland in stone and iron. Built in 1796 and serving as a facility housing rebels, political, and common prisoners, Kilmainham Gaol has housed many of the famous names connected with the fight for Irish Independence. It is here that many of the leaders of the 1916 Rising against British Rule were executed.
The closing of Kilmainham Gaol in 1924 signaled the rise of newly independent Ireland, ready to make its mark on the world stage.
Kilmainham Gaol is situated near the Irish National War Memorial Park and the Irish Museum of Modern Art. Through January 12th, 2019, admission is free, but advance booking is required.
Temple Bar Food Markets
After a morning spent perusing breathtaking fauna and dramatic Irish history, visitors can stop by the Temple Bar Food Markets. The popularity of this venue, open only on Saturdays, can make seating choices sparse, but locals and visitors alike say the quality and variety of fresh foods available here are worth it.
Not visiting on Saturday? Dublin has a healthy number of other markets open on Sundays, Fridays, and Wednesdays.  All of them will help to provide a fantastic Dublin culinary experience.
Christchurch Cathedral
Since the time when the Vikings ruled the Emerald Isle, priests have tended to Dublin's Roman Catholic faithful. This classic example of Gothic cathedral architecture both inside and out incorporates the unique architectural feature of a causeway as well as Victorian era additions that create a unique stylistic flavour.
Whether visiting as a tourist who adores old historical structures or as a faithful Roman Catholic, Christchurch Cathedral will elevate one's sense of beauty as well as spirit.
Christchurch Cathedral only closes on December 26th. Due to the significant expense in maintaining the cathedral, there is a nominal charge for admission.
These are just some of the many varied options how to spend your few days in Dublin. Throughout the year, there are also popular events across the city, such as the following,
Taste of Dublin

in a great food festival in June,

Dublin Fringe Festival

is home to outstanding performance arts and is on in September,
Watch the latest cinematic creations at the

Dublin International Film Festival

which runs from February into March,
Bloomsday Festival celebrates a day characterised in James Joyce's Ulysses, Thursday 16 June 1904,
Celebrate Samhain Festival (Hallowe'en) on 31 October with a many varied events for families during the day and adults during the evening,
Experience St.Patrick's Day, Ireland's sort of National Holiday on 17 March in Ireland, where there are events and celebrations taking place across the city.
At Love Irish Tours, many of our tours, including our self-drive tours, coach holidays of Ireland and private tours of Ireland start and finish in Dublin City, taking in the wonderful attractions and famous landmarks dotted across the city.
With our fully customizable private tours, we can make up itineraries for you to see your favourite Dublin sites; Our guides will escort you around the city, telling you about the rich history and local charms of Dublin. With our self-drive tours, we can also help you to explore the city on your own with our easy to follow itineraries.
Feel free to contact us by phone or email to find out more about our Irish tours.