With St. Patrick's Day soon upon us, and over 13 million pints of Guinness being consumed worldwide, we wanted to know who the Irish public thought was the best person to have a drink with on Paddy's Day. We ran a survey asking 1,000 people in Ireland 'Which of these Irish personalities would you like to have a St. Patrick's Day drink with?'
Now the results are in. Who would you choose? And are you surprised by the final results?
So, drum roll please…the Irish person that we want to share a Paddy's Day drink with the most is…World Rowing Champions, The O'Donovan brothers.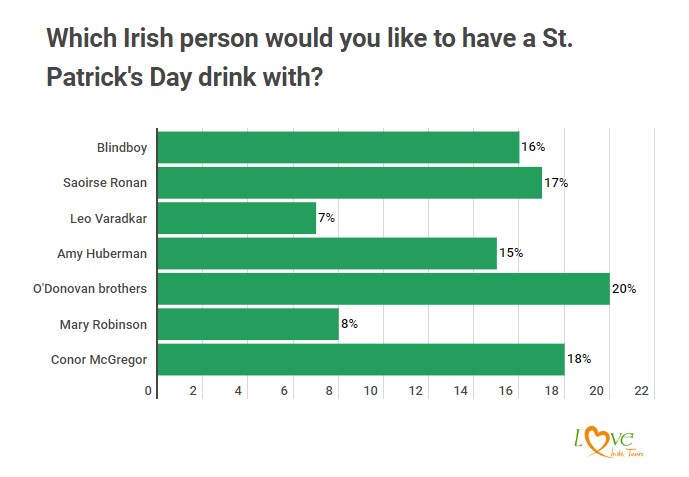 Our talented and hilarious brothers are who we'd most like to have a chat and a drink with on Paddy's Day.
So, what else did we discover? Well….
County loyalty seemed to also play a part!
Dubliners voted for Conor McGregor….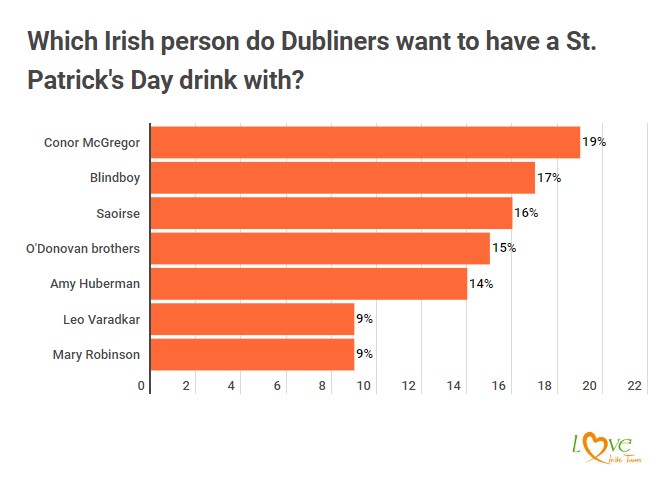 …whilst, Corkonians stayed faithful to their fellow brothers, the O'Donovan brothers.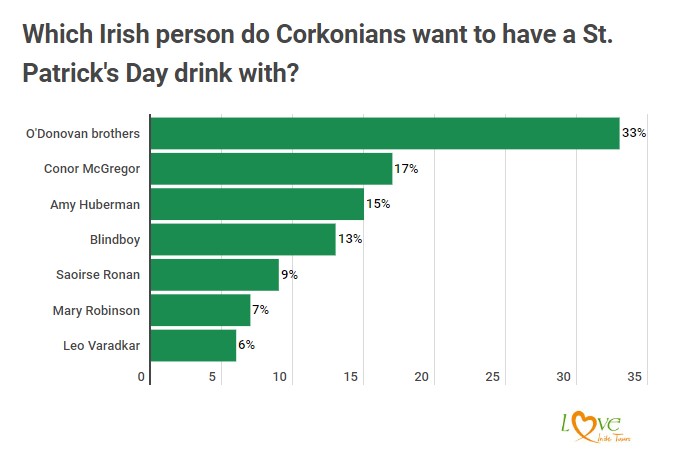 2. Women championed fellow women, voting Amy Huberman the person they would like to have a chin wag and drink with, followed by Saoirse Ronan.
3. Men chose a bit of a bromance for a Paddy's Day drink, picking the O'Donovan brothers, followed by Blindboy.
4. For the younger ones in the 18-24 age bracket, it was even stevens, with Saoirse Ronan, Conor McGregor and Blindboy joint top of the list; now that would be an interesting drinking group 😊
5. Those aged 25-34 were fans of Conor McGregor with 26% choosing him as their drinking buddy.
6. Blindboy was the number 1 choice for those aged 35-44, with 19% choosing the Limerick native, maybe hoping he would reveal the face behind the plastic bag.
7. The O'Donovan brothers were very popular with the those over 45, who would prefer to have the craic with the rowing champions on Paddy's Day.
So, what is it that makes these Irish personalities famous? Let's take a closer look at how these colourful characters rose to fame and won a place in our hearts.
1.    The O'Donovan Brothers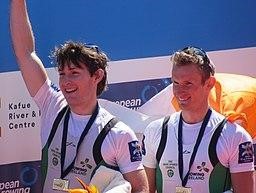 The O'Donovan brothers
Photo credit: Gregor Rom
Paul and Gary O'Donovan, of course, made headlines for their amazing heroics in winning an Olympic silver medal in 2016 and a gold in the World Rowing Championship in 2018, as well as for their hilarious chats to TV reporters afterwards. The brothers were introduced to the sport by their father, also a rower, at an early age, attending Skibbereen Rowing Club in County Cork.
The picturesque town of Skibbereen, where they are from, is close to the beach for the perfect base to explore the south-west of Ireland and will give you the opportunity to indulge in many watersports, including rowing, if you fancy emulating your sporting heroes.
The picturesque town of Skibbereen, where they are from, is close to the beach for the perfect base to explore the south-west of Ireland and will give you the opportunity to indulge in many watersports, including rowing, if you fancy emulating your sporting heroes.
2.    Conor McGregor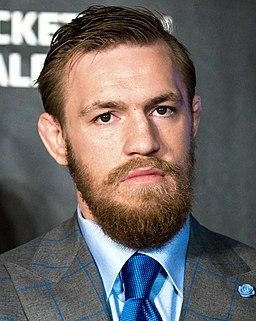 Conor McGregor
Photo credit: By Andrius Petrucenia
In second place is boxer Conor McGregor with 17.6% of the vote. From humble origins in Crumlin, Dublin to the millionaire he is today, his story is astonishing. The boxing star has enjoyed a meteoric rise to fame, firstly becoming a mixed martial arts (MMA) champion, then joining the Ultimate Fighting Championship in 2013 winning both featherweight and lightweight titles. The top choice by those in his hometown of Dublin.
3.    Saoirse Ronan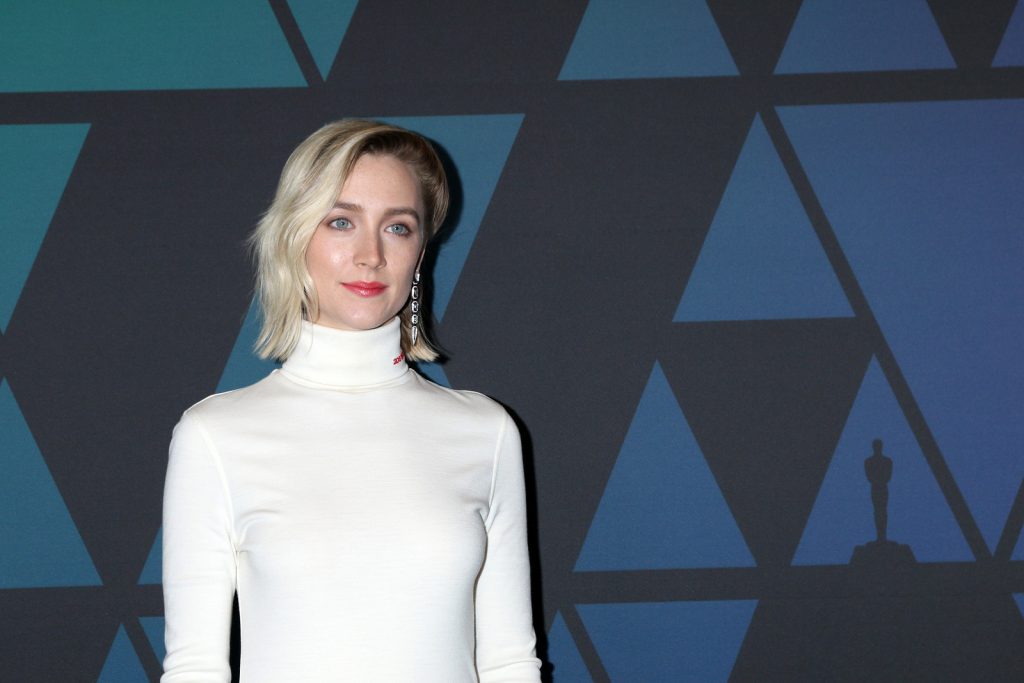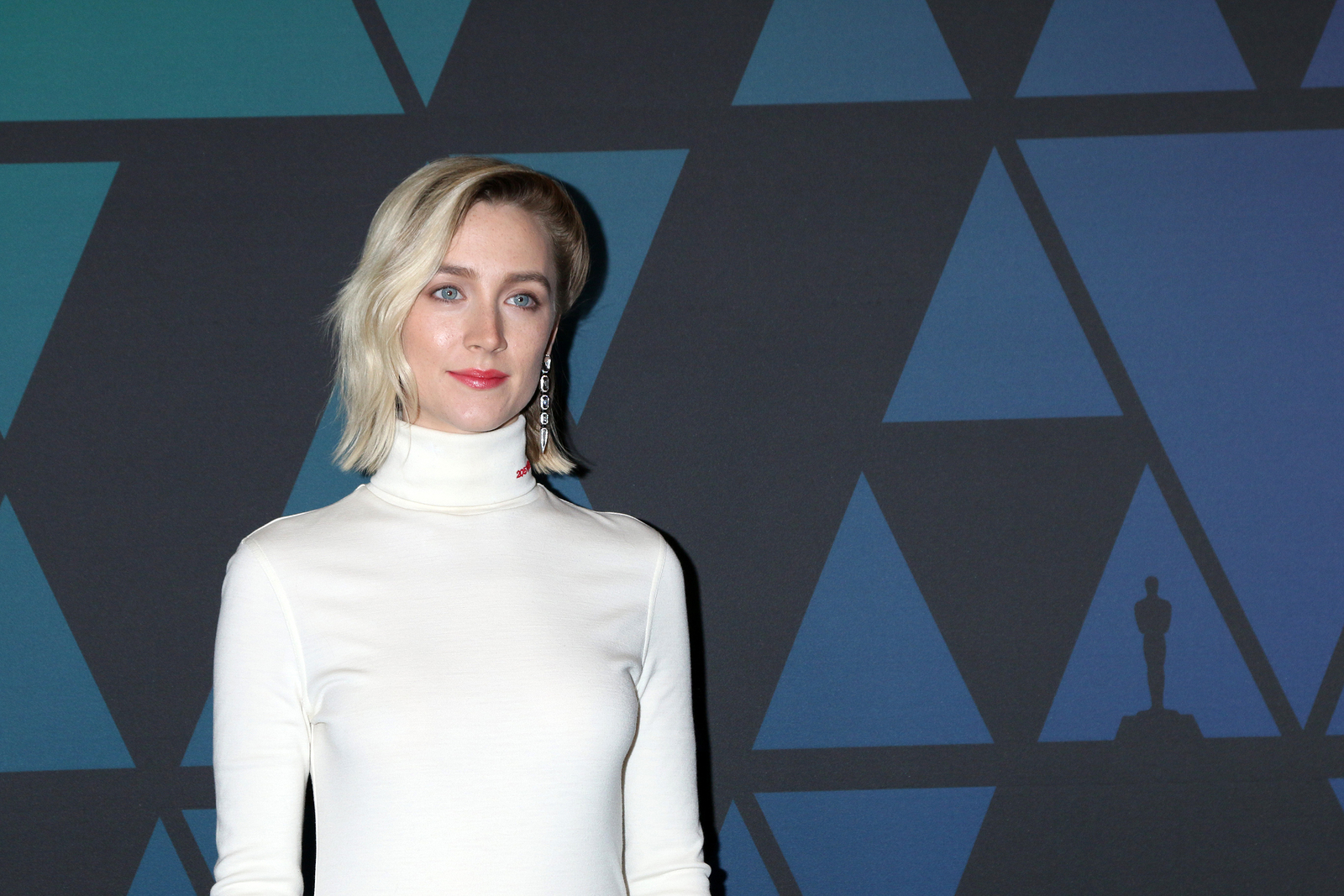 Saoirse Ronan
Photo credit: Siebbi
Actress Saoirse Ronan closely follows McGregor with 17.1% of the vote. The Irish-American actress had a broad following, voted in the top choices by those younger and older, male and female alike. She is best known for her parts in the films 'Atonement', 'Brooklyn' and 'Lady Bird', for which she won a Golden Globe Award for Best Actress. Born in New York to Irish parents, Saoirse grew up in Ardattin, County Carlow and Howth, Dublin.
If you're a fan of Saoirse, a trip to explore beautiful and ancient County Carlow is recommended. Immerse yourself in history as you wander amongst castles and stone age monuments, or simply get back to nature in this green and undulating landscape.
4.    Blindboy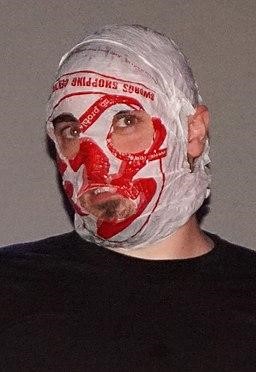 Blindboy
Photo credit: The All-Nite Images
Our next most popular Irish personality is Blindboy, one half of hip-hop duo The Rubber Bandits. With his podcast popular not just in Ireland but around the world, he is taking on issues from mental health to feminism and racism and saying what many are already thinking, and doing so with great humour. This hilarious and insightful Limerick native was voted the number one choice by male respondents, who no doubt would anticipate great craic with the funny man on St. Patrick's Day.
Fans will know that the double act of Blindboy (real name Dave Chambers) and Mr Chrome (real name Bob McGlynn) met at school in Limerick and since their video 'Horse Outside' went viral on YouTube, have gone on to perform on stage and screen throughout Ireland, the UK and the US.
If you're a follower of the duo and appreciate food, history, sport and culture, take a trip to Limerick to see what's on offer. You'll find the magical King John's Castle here, or if modern culture is more your thing, check out the quirky street art across the city.
5.    Amy Huberman

Actress Amy Huberman was the top pick for women to have a Paddy's Day drink with. With her Instagram feed providing hilarity on a daily basis, it's no wonder! An IFTA award winning actress, she is famous for her role as Daisy in RTE's 'The Clinic', as well as 'Can't Cope, Won't Cope' and co-creating and starring in the more recent 'Finding Joy', among others.
From South Dublin, she also is known for her popular collaborations with Newbridge Silverware and Bourbon Footwear. Smart, funny and stylish, she is definitely worth following on Instagram for adding some brightness to your day.
6.    Mary Robinson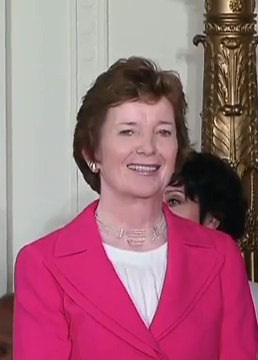 Mary Robinson
Photo Credit: Federal government of the United States [Public domain]
Former President of Ireland (1990-1997), Mary Robinson, received 8% of the overall vote. It's no wonder that this inspiring and strong female role model, who served as the first-ever female Irish president, is someone the Irish public would want to have a drink and chat with. Mrs Robinson studied law at Trinity College and built up an impressive career as a constitutional lawyer and advocate for human rights. This theme continued in her roles as president, and as High Commissioner for Human Rights for the United Nations from 1997-2002.
Whilst president, Mary lived at Áras an Uachtaráin, the official residence of the President of Ireland. To get a flavour of presidential life, why not visit Áras an Uachtaráin in Phoenix Park, Dublin? It offers tours for visitors of the elegant house and garden, and you can enjoy the other attractions of the park including Dublin Zoo and the Victorian walled kitchen garden.
7.    Leo Varadkar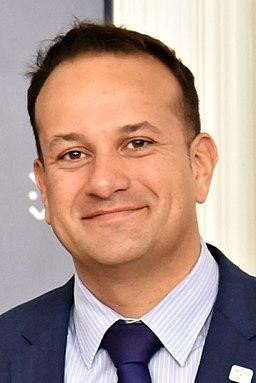 Leo Varadkar
Photo Credit: EU2016 SK [CC0]
Last but not least, Taoiseach (Prime Minister) Leo Varadkar captured 7.1% of the survey's overall votes. Another groundbreaking politician, Mr Varadkar was the youngest person ever to become Taoiseach at 38. Born to an Indian father and Irish mother, he trained as a doctor before he went into politics.
Why not follow in his footsteps by visiting the renowned Trinity College in Dublin where Mr Varadkar studied medicine? Here you can see The Book of Kells, or visit the Science Gallery or Zoological Museum. You can even book a room at the college over the summer while students are away to get a real feel of what it's like to study at this venerated institution.
Whoever makes your number one choice for St. Patrick's Day, be sure to enjoy the festivities and raise a glass to the history, rich culture, great humour and warm welcome that makes the Emerald Isle a truly great place to celebrate.
About Us
Love Irish Tours are a leading Irish tour company who specialize in fully customize tours around Ireland. Browse our ireland self-drive tours, private tours and bus tours to find out more. From incorporating St. Patrick's Day and other celebrations into your tour, to simply enjoying visiting one of the most beautiful countries in the world, we have you covered with a wide range of tours to suit any budget.