Ireland is a country steeped in history and legends. From the hauntingly beautiful landscapes to the rich, distinct culture, Ireland has something to offer even the most discerning traveler. With over 10 million tourists visiting the "Emerald Isle" in 2017 alone, Ireland's fast becoming one of the world's most popular sightseeing and social destinations.
But with so much to see and do, how do you choose the best time to visit Ireland? It all depends on what you are looking for from your visit–and how much time you've got. Below, we round up all you need to know about Ireland to plan your visit the right way.
1. Weather and Climate in Ireland

Ireland can thank much of its stunning scenery to frequent rainfall. Ireland doesn't typically experience extreme temperatures, and this temperate climate means rain is a feature all year round. In fact, the average temperature in Ireland is 50 degrees Fahrenheit, or 10 degrees Celsius, meaning it's comfortable to walk around in and easy to sleep in at night.
Here are some quick tips on what kind of weather to expect in the average year:
Spring (February to April)
During the spring months, you can expect temperatures to hover between 46 and 54 Fahrenheit, or 7 and 12 degrees Celsius. April is one of the best spring months for pleasant, drier weather.
Summer (May to July)
Temperatures are rising somewhat in Ireland during the summer months because of climate change, and it sometimes experiences a summer "heatwave" which lasts for a week or two. Average temperatures generally fall between 54 and 68 Fahrenheit, or 12 and 20 degrees Celsius.
If you're lucky and catch a particularly warm spell, temperatures can rise as high as 86 degrees Fahrenheit or 30 Celsius–but this is fairly unusual! Your best chance of catching a warm period of weather is July.
In the summer months, daylight can last until as late as 11pm, making this the perfect time of year for travelers who love the outdoors.
Autumn (August to October)
Autumn or Fall in Ireland is fairly mild, with temperatures hovering between 50 and 60 degrees Fahrenheit, or 10 and 16 degrees Celsius.
Winter (November to January)
Snow is relatively unusual in Ireland, but you can catch some hill snow and freak flurries, particularly in December–which makes the scenery even more beautiful! Temperatures are generally between 40 and 46 degrees Fahrenheit or 4 and 7 degrees Celsius, although you may catch a cold snap with temperatures dipping below freezing, particularly in December or January.

August and December are the wettest months on average, and February and July are typically the driest. We recommend packing a waterproof jacket, a hooded top, water-tight shoes and a cardigan just to be safe. Layers are always a good option for the oftentimes temperamental Irish weather.
2. Time your Trip around Events in the Irish Calendar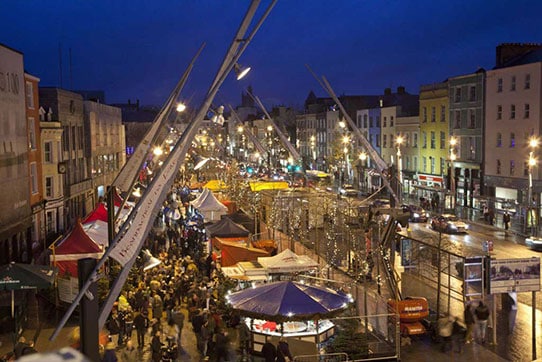 What better way to experience Ireland than to soak up the atmosphere of a great festival? Peak tourist season is the summer. If it's peace and quiet you're looking for, you're best picking an off-season month. Here are some of the most popular attractions and when to catch them.
3. Crowds
If you prefer to travel in summer, you will have to deal with the busy crowds as summer is peak season for tourism in Ireland. Getting up earlier will help to beat some of the queues but be prepared to queue or wind your way through bigger groups of people as you move into the afternoon.
If crowds don't bother you, then you will relish the buzz of people exploring the cities and attractions alongside you, and even better, meet fellow travelers to swap and share experiences.
If you are looking for a quieter time, then the off-peak season, from September to April, is the best option for you to have more space and time to wander freely without having to navigate through the crowds at the popular sites and attractions.
4. Travel and Accommodation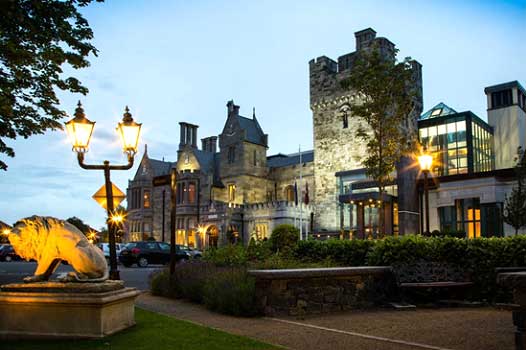 Although there's a lot to see and do in Ireland, accommodation availability can vary depending on the season you're traveling in. In smaller, more remote areas, hotels and B&B's can close in the off-season–much like in seaside resorts. However, there are still plenty of options available, whatever your budget.
As expected, you'll get cheaper deals if you travel in the off-season months, particularly in areas which thrive on tourism. Festival months are generally more expensive, especially if you want a prime location such as Dublin.
For more information on flight rates, check out flight sites such as Skyscanner and Kayak.
Ireland is a wonderful, family-friendly holiday destination all year round, but you should time your visit around what you most want to see to make this vacation magical. We hope, with our tips, you can start planning your dream holiday to the Emerald Isle with confidence and to visit Ireland at the best time for you.
At Love Irish Tours, we operate tours of Ireland all year round, so contact us with any questions you may have on deciding when is best to visit.
We cater for every tour type. Whether you are looking for coach trips to Ireland, including small group and large group tours, self drive tours or private tours of Ireland, which are fully customisable, we can help you pick the right tour for you to see the best of Ireland and experience the holiday of a lifetime.