Ireland, or "The Emerald Isle", is home to some of the most enchanting natural landscapes and historical monuments in the world. If you don't know where to start, here is our list of 20 must-see Irish attractions to make your holiday complete.
1.    Trinity College, Dublin
Founded in 1592, Trinity College is renowned for innovation and academic excellence. The College also houses the Book of Kells–a spectacularly illuminated manuscript dating from the 9th century. There are guided tours of the campus or you can simply walk the grounds, taking in the beautiful surrounds.
2.    Guinness Storehouse, Dublin
Located at St. James's Gate in central Dublin, the Guinness Storehouse is the home of Ireland's most famous export–Guinness. The storehouse includes walking tours and restaurants and a rooftop bar with panoramic views of Dublin City, where you can enjoy a pint of the black stuff.
3.    Waterford Viking Triangle, Waterford
This lively centre is situated at the exact location of an original Viking settlement. Attractions include historical sites and architecture, shopping and fun for the whole family. It's free to walk around, but tours are also available. An interactive map is available here.
4.    Glenveagh Castle & National Park, Donegal
Surrounded by the spectacular Derryveagh Mountains and standing on the shores of Lough Veagh, Glenveagh Castle and Gardens are the centre-piece attraction of Ireland's second largest national park. Admission to the national park and gardens is free. You can avail of guided tours of the castle during the summer season with limited tours during the quieter months.
5.    Kilmainham Gaol, Dublin
Formerly a large prison, the building is now a heritage site and museum. The prison opened in 1796 and was central to the 1916 Rising and the struggle for Irish Independence, with many rebellion leaders incarcerated and executed there.  One of Ireland's most important historical monuments, a visit is well worth it and will convey even more its importance and standing in Irish history.
6.    The National Museum of Ireland, Dublin
The National Museum is divided into 4 sites, 3 of which are in Dublin. Founded in 1877, exhibits include Viking treasures, archaeological findings, Bog bodies, natural history, and art and industry. General admission to these sites is free, but the sites are closed on Mondays.
7.    St Patrick's Cathedral, Dublin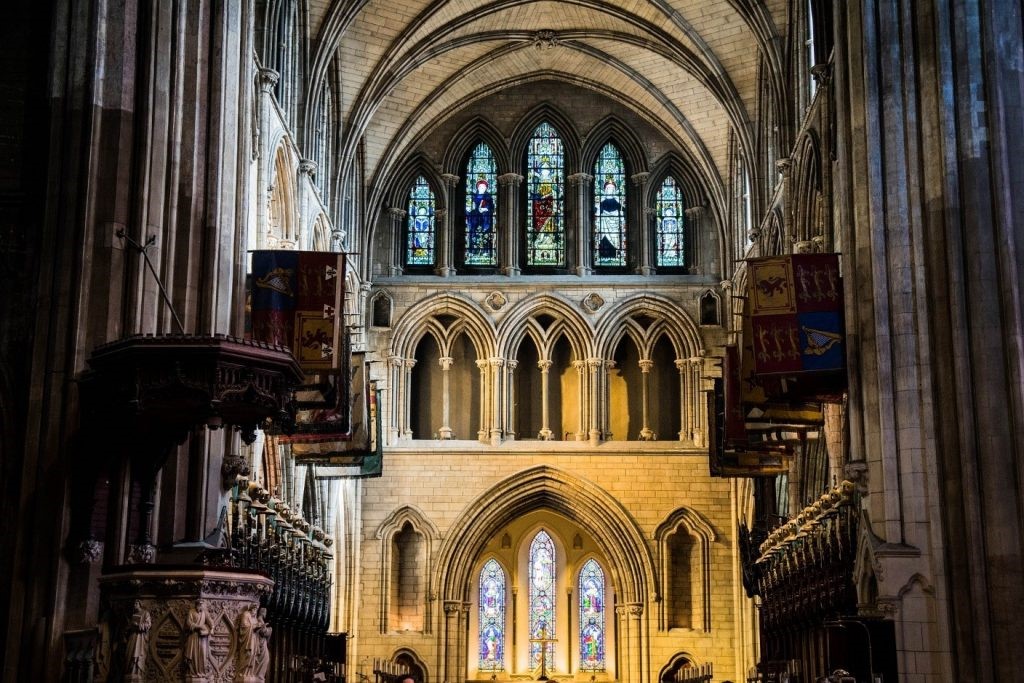 Founded in 1191, St. Patrick's Cathedral is the National Cathedral of the Church of Ireland. Set in beautifully kept gardens, the architecture and tranquility alone are worth the visit. It's located in the heart of Dublin city and accessible by public transport.  Admission begins at 3 Euros and children go free.
8.    Dingle Bay, County Kerry
Dingle is a famous harbour town noted for its resident dolphin, named Fungie, and dazzling natural beauty. The Dingle Peninsula itself offers everything from beach surfing to arts festivals. Make the most of your visit and take a tour of the Dingle Peninsula to capture the magnificent scenery.
9.    The Smithwick's Experience, Kilkenny
If you're more a fan of red ale or beer than you are of stout, then you might prefer the Guinness Storehouse's Kilkenny cousin – the Smithwick's Experience. Smithwick's ale, also known overseas as Kilkenny, hails from the historic Medieval Mile in Kilkenny City. The tour of the old brewery at St Francis Abbey lets you experience hands on how the Smithwick's red ale has been brewed in the town over centuries, and your ticket price includes a tasting paddle of their original red ale along with some of their newer additions – blonde ale and IPA.
10.           Killarney National Park, County Kerry
Donated in 1932, this park was Ireland's first national park. With lakes, woodlands, waterfalls and stunning wildlife, the park is a must-see for any outdoors fan. Be sure to also visit Muckross House while you're there.
11.           Kylemore Abbey, County Galway
The Kylemore Abbey and Victorian Walled Garden is a monastery founded in 1920 for Benedictine nuns fleeing Belgium in WWI. At the site, you'll find a Gothic church, mausoleum, shopping and breathtaking architecture. It's open daily with free entry for children aged 10 and under.
12.           Giant's Causeway, Northern Ireland
This geological wonder is Northern Ireland's first UNESCO Heritage Site and it's surrounded in myth and legend. It's a perfect day out for the whole family. Walking trails are free, but tickets are required for the Visitor Experience, which is very popular.
13.           The Burren National Park, County Clare
One of nature's amazing treasures, this park is famous for its beautifully exposed limestone landscape. Walking trails are available, covering everything from wildlife to natural fauna. It's particularly beautiful in the summer months. Admission is free.
14.           The Ring of Kerry, County Kerry
Whether you walk or cycle, you shouldn't miss out on this epic ring-shaped trail. You'll take in everything from wild stag and salmon to deep forests and clear waters. Part of the Wild Atlantic Way, it's breathtaking scenery and unspoiled beauty will become a memorable part of your trip. Make sure you have your camera handy, and don't forget to sample as many shops, bars, and restaurants as you can fit in!
15.           Bunratty Castle, County Clare
Established in the 15th century, Bunratty Castle has everything you'd expect from a historic monument–rich history, skilled architecture, and tranquility. There's also a folk park modelled on 19th-century Ireland, a walled garden, and even Medieval Banquets held in the castle so you can enjoy a taste of medieval food and culture.
16.           Blarney Castle, County Cork
For hundreds of years, visitors have been flocking to Blarney Castle to savour its stunning architecture, natural views and, of course, to kiss the world-famous Blarney Stone–conferring 'the gift of the gab' or otherwise know as skill of flattery on all who kiss it. It is now a world famous landmark and one of Ireland's most popular.
17.           Newgrange Heritage Site, County Meath
Ireland's best known passage tomb,  this 5,000 year old heritage site, which was erected by farmers during the Stone Age, is aligned with the Rising Sun of the Winter Solstice. Recently, exciting new discoveries have been made! To experience the magical Winter Solstice, you can enter a lottery to get tickets for the  celebrations.
18.           Cliffs of Moher, County Clare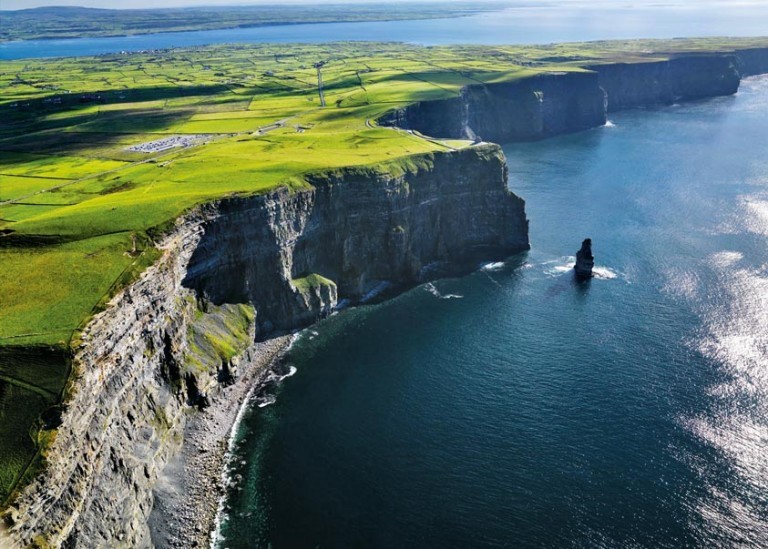 The World Heritage Site that is the Cliffs of Moher have something to offer everyone, from the remarkable scenery that will take your breath away to the wildlife, surfing and the delicious local food and drink. Watch the local puffins, or take a tour through the local caves.
19.           Skellig Michael, Skellig Islands
Located at the most westerly part of Ireland, accessing this stunning summit will let you visit a remarkably preserved 6th-century monastic settlement. It's also home to one of the largest gannet colonies in the world.  It's recent fame as a location for filming the latest Star Wars films has only heightened its popularity.
20.           The Rock of Cashel, Tipperary
This site is home to spectacular medieval buildings which sit on a grassy hill surrounded by limestone. Dating from the 12th century, transport yourself back in time with visits to the Cathedral, the Round Tower, which is the oldest of the buildings and the Chapel of King Cormac Mac Carthaigh.
21.           Kinsale, County Cork
Kinsale is a beautifully picturesque historic port and fishing town along the south west coast of Ireland. With some buildings dating from the 16th century, its beautiful scenery, calm harbor and quaint winding streets make it a popular and trendy tourist resort with lots to do for the whole family.
22.           Phoenix Park, Dublin
The Phoenix Park is the largest enclosed park in Europe and one of the world's best urban green spaces. No trip to Ireland is complete without a wander through its awe-inspiring surrounds. While you're there, check out the prehistoric burial chamber, the Papal Cross, and partake in some deer watching.
23.           Sliabh Liag Cliffs, Donegal
The magestic Sliabh Liag Cliffs (Slieve League in English) are located in South West Donegal and are a must-see attraction on the Wild Atlantic Way. Almost three times higher than the famous Cliffs of Moher, the Sliabh Liag Cliffs are the highest sea cliffs in Europe. Take in the spectacular views of the Atlantic Ocean and the beautiful local landscape. Entry to the cliffs is free and more information is available here.
Visiting the Emerald Isle is the holiday of a lifetime. With our tips on what to see and do, you're guaranteed to have a magical, fun-filled trip!
Check out our many Love Irish Tours that take in these sites across our private tours of Ireland, coach tours and self-drive tours of Ireland.